Interiorscapes – 'Be Bold and Distinctive'
The Building Isn't Finished Until the Plants Arrive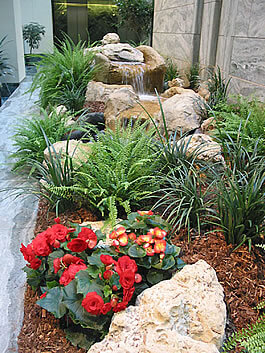 A professionally designed and maintained indoor interiorscape program will positively impact the image of your company, create a pleasing ambiance for you and your employees and enhance your corporate branding. Studies show that healthy tropical plants not only clean the air and remove toxins through both leaves and roots, but can help reduce worker stress, lower absenteeism, improve general productivity and promote wellbeing – a happy result of bringing nature indoors.
Plants are not just a luxury; they are a valuable corporate asset and give you an ROI (return on your investment)!
Corporate office design changes constantly so your plantings need to as well. Today there are so many gorgeous and unique planters or containers. Green walls are all the rage both outdoors, in office lobbies, receptions and boardrooms. Green roofs will one day be a common application to help building owners greatly reduce their operating costs.
All Atria designs include only the best tropical and flowering plants from Florida, Hawaii and California nurseries. We also strive to support our local growers and have established partnerships with several in our area. With these resources, we are able to offer a large variety of exciting tropical foliage plants to compliment your container choice and create a beautiful and unique interiorscape design.
---
Guaranteed Horticultural Service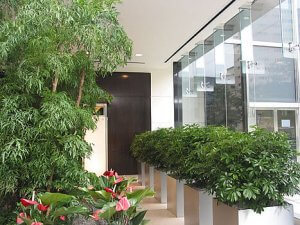 Consistent, exceptional care and attention to detail is the key to our award winning services.
With regularly scheduled visits, our professionally trained horticulturalists will service your plants and keep them looking their best.
When plants fail due to age or poor conditions, we replace them in a timely manner keeping the look fresh and always well maintained.
.
.
---
Additional Interiorscape Services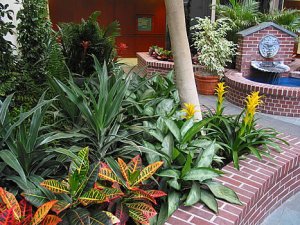 Our Rotational Flower Program helps make a vibrant impact and will improve your 'Indoor Curb Appeal'. Bromeliads, orchids and a variety of seasonal or tropical flowering plants can take your interior plant program and make it even more spectacular with accents of color throughout your space.
Silkscapes & Silk Floral Designs – We also offer design services using beautiful lifelike silk flowers, plants and giant palms. Our silk trees and florals are the finest available.
---
Interiorscapes Gallery by Atria
Atria's client interiorscape portfolio is extensive, and we've done our best to share just a portion of it online so you can get a glimpse of what we can do for you.
Contact Atria today to set up a design consultation.
Click any image to view an enlarged version. You can back up advance through all the images simply by clicking anywhere on the left or right side of the image and selecting the navigation arrows.