Urban Gardens – 'Reimagine the Outdoors'
"First Impressions Last" and "You don't get a second chance to make a first impression."
Create a warm welcome for clients, tenants and visitors before they even enter your building with beautiful, seasonal plantings including; unusual annuals, perennials, grasses, succulents and even some tropical plants.
Our urban landscaping team can design building entrances, built in planters and patios and also provide state of the art exterior containers from a variety of sources. Atria's creative design team can help you transform bland cold concrete spaces into colorful, inviting and friendly spaces. Our staff of horticulturists will provide care to assure your plantings flourish.
An exterior program offers plantings and designs for all seasons. Bright, full blooming flowers in the warmer months, mums, kale, cabbages & festive fall displays in autumn, and mixed winter greens, pine cones, birch branches and decorations for the holidays and winter season.
Contact us today so we can discuss how to enhance your urban environment.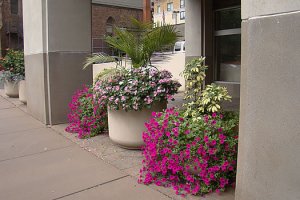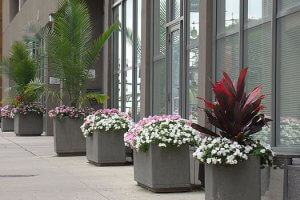 ---
Urban Gardens Gallery by Atria
Atria's client interiorscape portfolio is extensive, and we've done our best to share just a portion of it online so you can get a glimpse of what we can do for you.
Contact Atria today to set up a design consultation.
Click any image to view an enlarged version. You can back up advance through all the images simply by clicking anywhere on the left or right side of the image and selecting the navigation arrows.